Consent Management Platform
Admeet solutions enable you to obtain valid consent from your users via our banners and to store proof of cookie consent in the event of a control or complaint.
Why choose Admeet?
Our cookie banners always come with a database of proofs of consent to ensure your website's compliance. Our banners have no dark patterns to ensure valid user consent.
Integrated scan and cookie database to keep you up to date
Adapted to your corporate identity
Easy to set up and integrate
Multi-lingual and responsive banners
Real-time banner interaction statistics
Cookie consent evidence base
Custom cookie banner
Our banners are customisable and automatically adapt to the cookie families you have on your website.
Our lawyers have pre-encoded for you the texts relating to the different families of cookies, based on the recommendations of the data protection authorities.
Integrated cookie scan to keep you up to date
Admeet is linked to a comprehensive database of cookies validated by our experts, which means that by scanning your website, your cookies will be easily identifiable by Admeet.
Customised to your image
With Admeet, you can customise your cookie consent banner with your brand colours. And you can also choose its location.
Easy to set up and integrate
To generate your banner, simply scan your website and encode the cookies. It's that easy!
Admeet cookie banners are designed for easy integration into all digital platforms and products: website, online store, etc.
Easy updating
Have you installed a new cookie on your website and need to update your banner? No problem, Admeet allows you to update your banner in just a few clicks, and will automatically display the latest version of your banner and its associated cookie policy.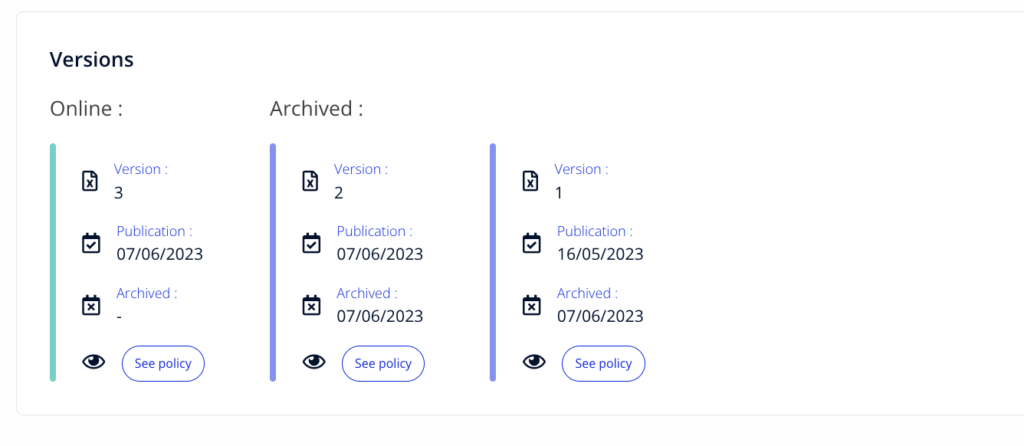 Multi-lingual and responsive banners
Our banners are responsive, automatically adapting to users' terminals (PC, mobile, tablet) and languages.
Cookie consent evidence base
In the event of control by the authorities or a user request, you must be able to prove that you have obtained valid consent from a visitor. In the Admeet application, all cookie consents are stored in a database, which you can access at any time.
Interaction statistics
Because we know how important it is to analyse user interactions on your banners, Admeet provides you with detailed statistics to better understand your opt-in and opt-out rates on your various cookie families. However, this data is always anonymous, and Admeet does not collect any personal data from your databases.
Design principles without dark patterns to collect valid consent
Consent must meet four criteria (defined by the GDPR) to be valid.
It must be :
Unambiguous
Free (no constraints)
Specific (use of data, consent)
Illuminated (having informed the visitor)
Your visitor will always have the right to change his or her mind and withdraw consent. And withdrawing consent should be as easy as giving it.
Warning: Setting up a complex system to discourage your visitor from withdrawing consent is tantamount to using dark patterns and is illegal.
Admeet, your GDPR companion
Creation of GDPR legal notices and cookie banners
Cookie consent management
Integration, getting started, additional support
Steps to make your website GDPR compliant