A custom solution for e-commerce sites
Simplify your e-commerce site's GDPR compliance with Admeet's complete "all-in-one" application, designed by GDPR experts.
Why choose Admeet ?
Admeet adapts to all business sectors. We have pre-encoded for you the data processing purposes specific to e-commerce websites, based on the recommendations (sectoral guidelines) of data protection authorities.
01
Create GDPR legal documents in web version and banners, clear and understandable by all
02
Build loyalty and trust with your customers
03
Manage and prove valid consents with our cookie banners
04
Save time with a solution that's quick and easy to use, even for non-experts
05
Customise your banners and legal documents to your corporate identity
Our certifications
We are Certified Information Privacy Professionals / Europe
The CIPP/E Certification is the privacy industry's leading credential.
We are a corporate member of the International Association of Privacy Professionals (IAPP)
The IAPP membership gives us access to the world's largest global information privacy community.
Our highly secure and robust architecture
We use ISO/IEC 27001:2013, 27017:2015, 27018:2019, ISO/IEC 9001:2015 and CSA STAR CCM v3.0.1 certified data processors.
Transparency as a guarantee of trust
Taking GDPR principles into account right from the design or redesign phase of your e-commerce site is essential. In fact, it's a real differentiating asset showing that you take the protection of your customers' personal data to heart, and a confidence-building factor. And a customer who trusts you is a customer who comes back.
Don't hesitate to contact the Admeet team, who can guide you through the process so that the GDPR holds no secrets for you!
Suitable for multilingual sites
Do you sell internationally? Don't worry, our hundreds of clauses, drafted by our legal experts, are available in several languages. So there is no need to translate your documents – Admeet does it for you!
A complete privacy policy
All online sites must have a complete and clear privacy policy. There are certain elements that absolutely must be mentioned in this document. But don't panic: with Admeet, all you have to do is answer the questions, select the desired languages and our Legal Tech algorithm will do the rest.
A rigorous cookie policy
A cookie policy is always integrated into the cookie banner. Once the banner is created, you can generate the policy with just a few clicks. Admeet is also linked to a cookie database, which means that by scanning your website, your cookies will be easily identifiable by Admeet.
Preview and publish
Check the content of the policies and banners for your website and modify them if necessary. Everything perfect? All that is left to do is confirm the content of the documents and banners and integrate them into your site in just a few clicks.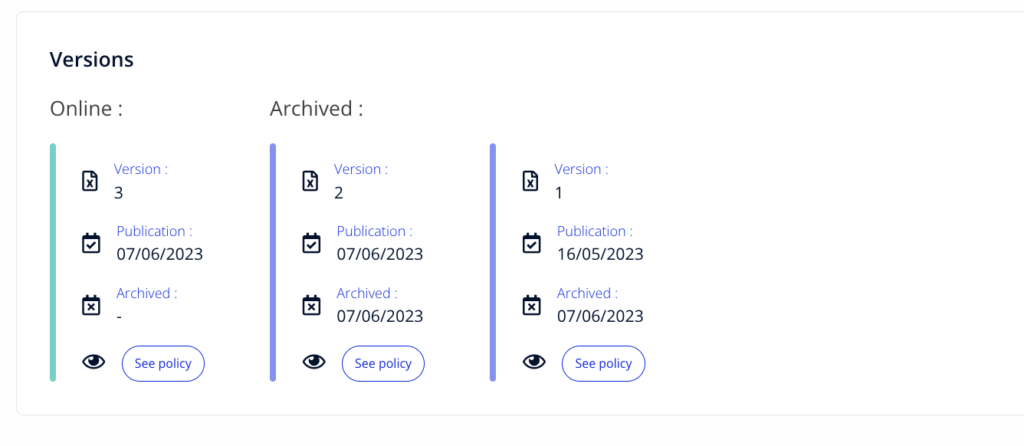 Quick updates
Need to make a change? You can update policies and banners in the blink of an eye, and easily manage document versions. No need for additional technical intervention, Admeet always displays the latest version of your documents on the website.
Adapted to your corporate identity
Our Admeet solution can be customised to match your corporate identity.
You can choose the colours of the banners and policies, as well as their position on your website, so that they represent your brand identity.
Proud of our privacy notices created with Admeet! Check them out.
Ready to start?
Admeet, your GDPR companion
Creation of GDPR legal notices and cookie banners
Cookie consent management
Integration, getting started, additional support
Steps to make your website GDPR compliant